Volunteers Who Took Pfizer's COVID-19 Vaccine Describe Side Effects: Reports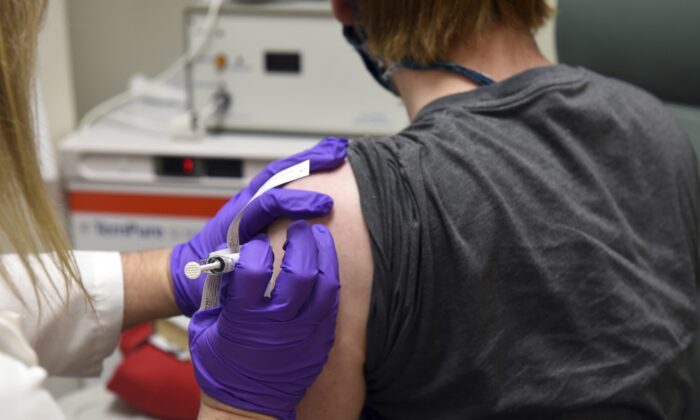 With over 43,500 volunteers taking part in Pfizer's COVID-19 vaccine trial, reports have emerged of people who took the shot describing its side effects, with some noting injection site pain and aches comparable to the flu jab, while one test subject likened it to a "severe hangover."
Biotech firm Pfizer and German partner BioNTech SE recently announced that their experimental vaccine candidate was shown to be 90 percent effective in preventing COVID-19 infection. The companies said they expect to apply for emergency use authorization sometime in November, raising the chance of a regulatory decision as soon as December.
"Today is a great day for science and humanity," Pfizer's Chief Executive Officer Albert Bourla said in a Nov. 9 statement.
"We are reaching this critical milestone in our vaccine development program at a time when the world needs it most with infection rates setting new records, hospitals nearing over-capacity, and economies struggling to reopen," he added.
The Pfizer study enrolled 43,538 participants, with the company noting no serious safety concerns have been observed, and that additional safety and efficacy data continue to be collected.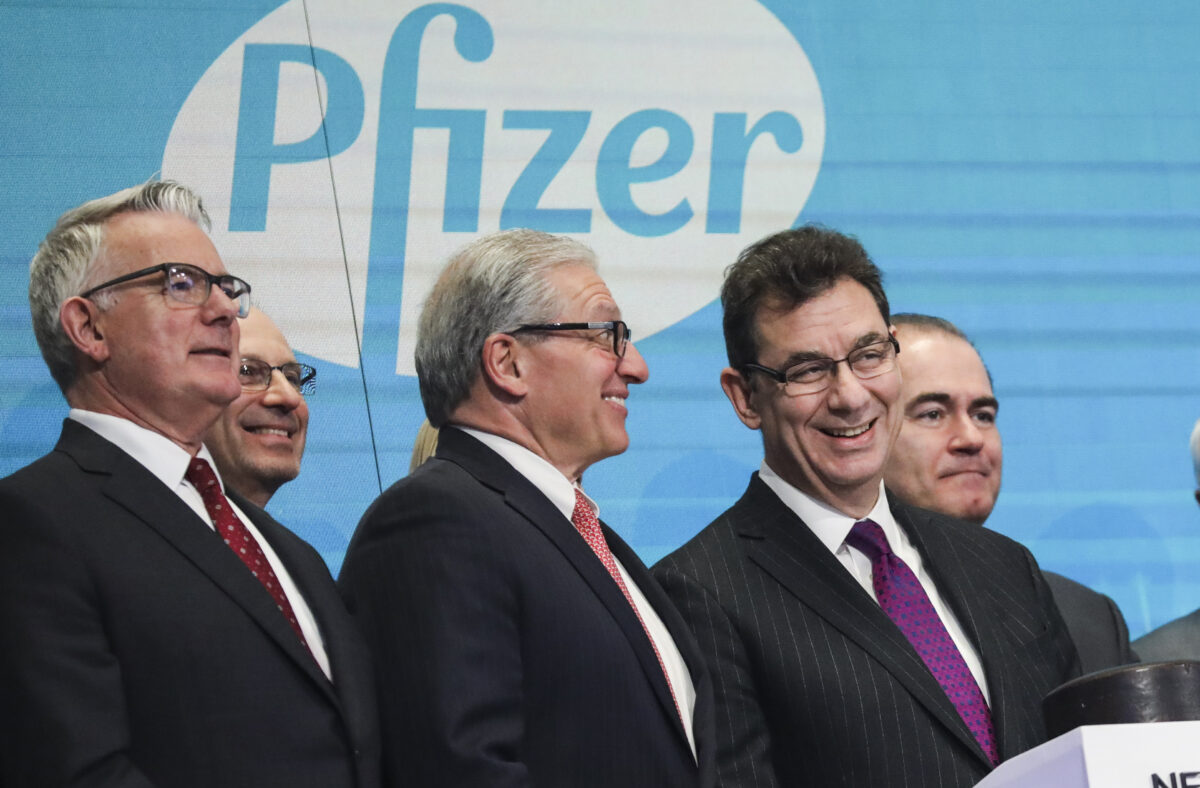 Meanwhile, trial participants have been describing the side-effects of the experimental vaccine.
Stanley Wang, an Australian man who lives in Los Angeles, told Australia's ABC News that the side-effects were like experiencing a "severe hangover."
"Side effects are equivalent to a severe hangover where you get headaches and don't feel so well from it, and that lasts on average two days, but some people have reported up to five days," he told the outlet.
Glenn Deshields, a 44-year-old volunteer from Austin, Texas, told Fox News in an interview that after taking the first shot, he experienced "a lot of injection site pain" and that the side-effects "were a little more severe than I thought." He said he felt unwell for "maybe three to four days," adding that the symptoms following the second injection were "much more muted."
A volunteer from Missouri named Carrie, who declined to provide her last name, was cited by Daily Mailas saying she suffered a headache, fever, and aches all over her body after the first shot, with the second injection causing symptoms that were "more severe."
The Pfizer-BioNTech vaccine needs to be stored at temperatures of -94 degrees Fahrenheit (-70 degrees Celsius) or lower, potentially posing a logistical challenge in keeping the "cold chain" intact during deliveries, particularly in countries that experience intense heat and have poor infrastructure.
The Trump administration, meanwhile, has struck a deal with pharmacies across the nation to make the COVID-19 vaccine available more widely and with no out-of-pocket costs.
The Department of Health and Human Services (HHS) on Nov. 12 announced that the arrangement would involve both large chain pharmacies and networks representing independent pharmacies and regional chains.
Partnership with pharmacy chains covers around 60 percent of pharmacies in all 50 states, the District of Columbia, Puerto Rico, and the U.S. Virgin Islands. These include names like Albertsons, Costco, CVS, Publix, Walgreens, and Walmart, with a complete list available in the HHS release.
Partnering with networks will expand vaccine availability to traditionally underserved areas through regional chains and independent pharmacies.
"The vast majority of Americans live within five miles of a pharmacy, and our new agreement with pharmacy partners across America is a critical step toward making sure all Americans have access to safe and effective COVID-19 vaccines when they are available," said HHS Secretary Alex Azar, in a statement.
While there are currently no COVID-19 vaccines that have been authorized or approved by the Food and Drug Administration, the pharmacy partnership was launched in anticipation of one or more vaccines would be approved by the end of the year.
With over 43,500 volunteers taking part in Pfizer's COVID-19 vaccine trial, reports have emerged of people who took the shot describing its side effects
— Read on m.theepochtimes.com/volunteers-who-took-pfizers-covid-19-vaccine-describe-side-effects-reports_3577492.html
Sukarelawan yang Mengambil Vaksin COVID-19 Pfizer Terangkan Kesan Sampingan: Laporan
Seorang pesakit yang menerima vaksin Pfizer COVID-19 di University of Maryland School of Medicine di Baltimore, Md., Pada 4 Mei 2020. (Dengan ihsan dari University of Maryland School of Medicine melalui AP)
Dengan lebih daripada 43,500 sukarelawan mengambil bahagian dalam percubaan vaksin Pfizer COVID-19, terdapat laporan mengenai orang-orang yang mengambil gambar yang menggambarkan kesan sampingannya, dengan beberapa kesakitan di tempat suntikan dan sakit yang setanding dengan luka selesema, sementara satu subjek ujian menyamakannya dengan "Mabuk teruk."
Syarikat Biotech Pfizer dan rakan Jerman BioNTech SE baru-baru ini mengumumkan bahawa calon vaksin eksperimen mereka terbukti 90 peratus berkesan dalam mencegah jangkitan COVID-19. Syarikat-syarikat itu mengatakan bahawa mereka mengharapkan untuk memohon kebenaran penggunaan kecemasan pada bulan November, meningkatkan peluang keputusan pengawalseliaan secepat Desember.
"Hari ini adalah hari yang hebat untuk sains dan kemanusiaan," kata Ketua Pegawai Eksekutif Pfizer Albert Bourla dalam satu kenyataan pada 9 November.
"Kami mencapai tonggak penting ini dalam program pengembangan vaksin kami pada saat dunia sangat memerlukannya dengan kadar jangkitan menetapkan rekod baru, rumah sakit yang hampir berkapasitas tinggi, dan ekonomi yang berjuang untuk dibuka semula," tambahnya.
Kajian Pfizer mendaftarkan 43.538 peserta, dengan syarikat itu menyatakan tidak ada masalah keselamatan yang serius, dan data keselamatan dan keberkesanan tambahan terus dikumpulkan.
albert-bourla-pfizer
Albert Bourla (R), ketua pegawai eksekutif Pfizer, menunggu untuk membunyikan loceng penutup di Bursa Saham New York di New York City, NY, pada 17 Januari 2019. (Drew Angerer / Getty Images)
Sementara itu, peserta percubaan telah menerangkan kesan sampingan vaksin eksperimen.
PALING BACA
Stanley Wang, seorang lelaki Australia yang tinggal di Los Angeles, memberitahu ABC News Australia bahawa kesan sampingannya seperti mengalami "mabuk teruk".
"Kesan sampingan setara dengan mabuk teruk di mana anda mengalami sakit kepala dan tidak merasa sihat dari itu, dan itu berlangsung rata-rata dua hari, tetapi beberapa orang telah melaporkan hingga lima hari," katanya kepada outlet.
Glenn Deshields, seorang sukarelawan berusia 44 tahun dari Austin, Texas, mengatakan kepada Fox News dalam sebuah wawancara bahawa setelah mengambil tembakan pertama, dia mengalami "banyak sakit di tempat suntikan" dan bahawa kesan sampingan "sedikit lebih parah daripada yang saya fikirkan. " Dia mengatakan dia merasa tidak sihat selama "mungkin tiga hingga empat hari," sambil menambah bahawa gejala selepas suntikan kedua "jauh lebih disenyapkan."
Seorang sukarelawan dari Missouri bernama Carrie, yang enggan memberikan nama belakangnya, disebut oleh Daily Mail mengatakan bahawa dia mengalami sakit kepala, demam, dan sakit di seluruh tubuhnya setelah tembakan pertama, dengan suntikan kedua menyebabkan gejala yang "lebih teruk. "
Vaksin Pfizer-BioNTech perlu disimpan pada suhu -94 darjah Fahrenheit (-70 darjah Celsius) atau lebih rendah, berpotensi menimbulkan cabaran logistik untuk menjaga "rantai sejuk" tetap utuh semasa penghantaran, terutama di negara-negara yang mengalami panas terik dan mengalami infrastruktur yang buruk.
Sementara itu, pentadbiran Trump telah membuat perjanjian dengan farmasi di seluruh negara untuk menjadikan vaksin COVID-19 lebih luas dan tanpa kos di luar poket.
Jabatan Kesihatan dan Perkhidmatan Manusia (HHS) pada 12 November mengumumkan bahawa pengaturan itu akan melibatkan kedua-dua farmasi rantai besar dan rangkaian yang mewakili farmasi bebas dan rantaian wilayah.
Kerjasama dengan rangkaian farmasi merangkumi sekitar 60 peratus farmasi di semua 50 negeri, Daerah Columbia, Puerto Rico, dan Kepulauan Virgin A.S. Ini termasuk nama seperti Albertsons, Costco, CVS, Publix, Walgreens, dan Walmart, dengan senarai lengkap yang terdapat dalam siaran HHS.
Bermitra dengan rangkaian akan memperluas ketersediaan vaksin ke kawasan yang tidak terlayani secara tradisional melalui rantaian wilayah dan farmasi bebas.
"Sebilangan besar orang Amerika tinggal dalam jarak lima batu dari farmasi, dan perjanjian baru kami dengan rakan farmasi di seluruh Amerika adalah langkah penting untuk memastikan semua orang Amerika mempunyai akses kepada vaksin COVID-19 yang selamat dan berkesan apabila ia tersedia," kata HHS Setiausaha Alex Azar, dalam satu kenyataan.
Walaupun saat ini tidak ada vaksin COVID-19 yang telah disahkan atau disetujui oleh Pentadbiran Makanan dan Dadah, perkongsian farmasi dilancarkan dengan harapan satu atau lebih vaksin akan disetujui pada akhir tahun ini.
Ikuti Tom di Twitter: @OZImekTOM