Trump has 2 months left to attack Iran, and here's why he might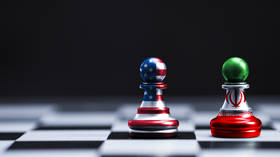 By Tom Fowdy, a British writer and analyst of politics and international relations with a primary focus on East Asia.
As the sun sets on the Trump presidency, the White House still has plenty of scores to settle, not least when it comes to dealing with Iran. Just how far is Trump prepared to go to make it impossible for Biden to de-escalate?
Having advocated a "maximum pressure" approach against Tehran at the behest of Saudi Arabia and Israel for two years, the Donald Trump administration has sought to weaken the regime and forcefully contain its regional ambitions. However, with the ascension of Joe Biden to the presidency come January – one of the original advocates of the Joint Comprehensive Plan of Action (JCPOA), or the Iran Deal – there is a growing fear in both Washington and Tel Aviv that all the Trump administration's "good work" might soon be undone.
The time left is short, but the chances of a last gasp confrontation between the US and Iran are high. The International Atomic Energy Agency (IAEA) stated today that Tehran hadenriched uranium up to 12 times the amount capped by its nuclear agreement. The Islamic Republic has steadily backtracked on its commitments to the deal as a means of leverage, but has denied it is seeking to develop a nuclear weapon. But "dialogue" isn't what the Trump-era White House is looking for; it wants no "normalization" with Iran as it is, which it maintains was Obama's "biggest mistake." Thus, in the two months ahead, we should expect the White House to do everything it can to uphold "the new status quo"even if it involves punitive action, something Trump has been happy to do before.
A vision for a New American Order in the Middle East
In dealing with Iran, Secretary of State Mike Pompeo has frequently used the buzzword that the US wants Tehran to "behave like a normal country," but what does that mean? It can't refer to a "type of regime" in an ideological sense given that US ally Saudi Arabia is an extremely conservative Islamic monarchy which has also been linked to spreading Islamism, but rather it might be better styled as a "country which submits to American interests," which of course is what Tehran did prior to 1979.
The so-called concerns about Iran's nuclear program are a façade; the real issue at stake is the strategic challenge Iran poses to the US-led "regional order" in the Middle East, whose overseers are Israel and Riyadh, both of whom lobbied the Trump administration fiercely to take a tough stance against Iran. Iran has faced off against these players through proxy conflicts in both Syria and Yemen. The all-embracing sanctions campaign pursued by Washington is in fact an effort at containment and more ambitiously, regime change.
And neither the White House nor its aforementioned parties are keen for that to change. Biden is worrisome, as it was he and Obama who orchestrated the much-loathed 'Iran deal' in the first place, a deal which empirically ended Tehran's nuclear program but let them off the leash for everything else. Naturally, the administration and Tel Aviv will be contemplating now what can be done to stop this from happening. Pompeo himself will be paying Israel a visit and vows to extensively up sanctions on Iranbefore January, but the big question is, will that be enough? And will it change anything?
The military option
Do not underestimate 'the military option' – it is politically viable for a number of reasons. As the assassination of top Iranian general Qassem Soleimani at the beginning of this year has shown, the Trump administration is very much prepared to use kinetic action against Iran and provoke a crisis for political gain. Providing it does not go as far as an outright war, Washington has very little to lose by doing this. Iran can strike US bases nearby, but it cannot harm the US itself. Secondly, political opposition at home is low – being a hyper-demonized country, it is easy to fabricate a false narrative that Iran attacked first and dismiss anything it does as a "terrorist state."
In addition to that, Benjamin Netanyahu recognizes that he will never have it as good with the US as he has it right now. The Trump administration has been devoutly pro-Israel, the Obama administration was not, and thus with Biden, it's only downhill from here. Given this, Tel Aviv may be looking for some permanent crippling of Iran's capabilities, which sanctions alone cannot deliver, it would want to maximize its own leverage before the new administration rows anything back. The only way to do that is via military means.
A tense two months ahead
The next two months are going to be a bumpy ride. We have a US presidency that refuses to accept it has lost an election and will be looking for ways to remain in power, a foreign policy legacy it wishes to consolidate permanently, and an easy target in Iran. The Trump administration launched a maximum pressure campaign against Iran for strategic motivations, and on the whim of lobbying from allies. All that risks being undone as the Biden administration will be a supporter of returning to the JCPOA, thus leading to a thought scrambling on what precisely can be done to stop that happening. More measures on Iran are one thing, but they can be easily negotiated away; a series of attacks against specific sites and sectors, however, cannot. A trigger-happy Trump might just see attacking Tehran as the solution to all his problems.
Think your friends would be interested? Share this story!
The statements, views and opinions expressed in this column are solely those of the author and do not necessarily represent those of RT.
As the sun sets on the Trump presidency, the White House still has plenty of scores to settle, not least when it comes to dealing with Iran. Just how far is Trump prepared to go to make it impossible for Biden to de-escalate?
— Read on www.rt.com/op-ed/506476-trump-attack-iran-biden/
Trump mempunyai 2 bulan lagi untuk menyerang Iran, dan inilah sebabnya dia mungkin
12 Nov, 2020 12:14
Trump mempunyai 2 bulan lagi untuk menyerang Iran, dan inilah sebabnya dia mungkin
Oleh Tom Fowdy, seorang penulis dan penganalisis politik Inggeris dan hubungan antarabangsa dengan fokus utama di Asia Timur.
Ketika matahari terbenam di presiden Trump, Gedung Putih masih memiliki banyak skor untuk diselesaikan, terutama ketika berurusan dengan Iran. Sejauh mana Trump bersiap-siap untuk membuat Biden tidak boleh meningkat?
Setelah mengadvokasi pendekatan "tekanan maksimum" terhadap Teheran atas perintah Arab Saudi dan Israel selama dua tahun, pemerintahan Donald Trump telah berusaha untuk melemahkan rezim dan menahan cita-cita serantau secara paksa. Namun, dengan kenaikan Joe Biden menjadi presiden pada bulan Januari – salah satu penyokong asal Pelan Tindakan Komprehensif Bersama (JCPOA), atau Perjanjian Iran – terdapat ketakutan yang semakin meningkat di Washington dan Tel Aviv bahawa semua Trump "kerja baik" pentadbiran segera dibatalkan.
Masa yang tersisa adalah singkat, tetapi kemungkinan terjadinya konfrontasi terakhir antara AS dan Iran adalah tinggi. Agensi Tenaga Atom Antarabangsa (IAEA) hari ini menyatakan bahawa Teheran telah memperkaya uranium hingga 12 kali jumlah yang dibatasi oleh perjanjian nuklearnya. Republik Islam dengan tegas mengundurkan komitmennya terhadap perjanjian itu sebagai cara memanfaatkan, tetapi telah menafikan pihaknya berusaha mengembangkan senjata nuklear. Tetapi "dialog" bukanlah apa yang dicari oleh Rumah Putih era Trump; ia tidak menginginkan "normalisasi" dengan Iran sebagaimana adanya, yang menurutnya adalah "kesalahan terbesar" Obama. Oleh itu, dalam dua bulan ke depan, kita harus mengharapkan Gedung Putih untuk melakukan apa sahaja untuk menegakkan "status quo baru" walaupun ia melibatkan tindakan menghukum, sesuatu yang telah dilakukan Trump dengan senang hati sebelumnya.
Juga di rt.com stok uranium yang diperkaya Iran adalah 12 KALI melebihi had perjanjian nuklear – IAEA
Visi untuk Perintah Amerika Baru di Timur Tengah
Semasa berurusan dengan Iran, Menteri Luar Negeri Mike Pompeo sering menggunakan kata kunci bahawa AS mahu Teheran "bersikap seperti negara biasa," tetapi apa maksudnya? Ini tidak dapat merujuk kepada "jenis rezim" dalam pengertian ideologi kerana sekutu AS Arab Saudi adalah monarki Islam yang sangat konservatif yang juga dikaitkan dengan penyebaran Islam, tetapi mungkin lebih baik digambarkan sebagai "negara yang tunduk untuk kepentingan Amerika, "yang tentunya adalah apa yang dilakukan Teheran sebelum tahun 1979.
Kebimbangan yang disebut mengenai program nuklear Iran adalah fasad; masalah sebenarnya yang dipertaruhkan adalah cabaran strategik yang diajukan Iran kepada "perintah wilayah" pimpinan AS di Timur Tengah, yang pengawasnya adalah Israel dan Riyadh, yang keduanya melobi pemerintahan Trump dengan keras untuk mengambil sikap tegas terhadap Iran. Iran telah menghadapi pemain-pemain ini melalui konflik proksi di Syria dan Yaman. Kempen sekatan menyeluruh yang dilakukan oleh Washington sebenarnya adalah usaha untuk membendung dan lebih mencabar, perubahan rejim.
Dan Gedung Putih dan pihaknya tidak berminat untuk berubah. Biden mengkhawatirkan, kerana dia dan Obama yang pertama kali mengatur 'perjanjian Iran' yang sangat tidak disukai, kesepakatan yang secara empirik mengakhiri program nuklear Teheran tetapi membiarkan mereka melepaskan segala hal yang lain. Sememangnya, pentadbiran dan Tel Aviv akan mempertimbangkan sekarang apa yang boleh dilakukan untuk menghentikan perkara ini daripada berlaku. Pompeo sendiri akan mengunjungi Israel dan berikrar akan menjatuhkan sekatan besar-besaran ke atas Iran sebelum Januari, tetapi persoalan besarnya, apakah itu cukup? Dan adakah ia akan mengubah apa-apa?
Juga di rt.com Iran untuk mengambil 'sebarang peluang' untuk menjatuhkan sekatan Washington setelah pilihan raya AS – Presiden Rouhani
Pilihan ketenteraan
Jangan memandang rendah 'pilihan ketenteraan' – secara politik boleh dilaksanakan kerana beberapa sebab. Seperti yang ditunjukkan oleh pembunuhan jeneral Iran terkemuka Qassem Soleimani pada awal tahun ini, pentadbiran Trump sangat bersedia untuk menggunakan tindakan kinetik terhadap Iran dan memprovokasi krisis untuk keuntungan politik. Dengan syarat ia tidak akan sampai ke perang langsung, Washington akan kehilangan sedikit dengan melakukan ini. Iran boleh menyerang markas AS yang berdekatan, tetapi ia tidak boleh merosakkan AS sendiri. Kedua, penentangan politik di rumah rendah – sebagai sebuah negara yang sangat demonis, mudah untuk mereka-reka naratif palsu bahawa Iran menyerang terlebih dahulu dan menolak apa sahaja yang dilakukannya sebagai "negara pengganas."
Selain itu, Benjamin Netanyahu menyedari bahawa dia tidak akan pernah memiliki yang baik dengan AS seperti yang dia miliki sekarang. Pentadbiran Trump sangat pro-Israel, pentadbiran Obama tidak, dan dengan itu dengan Biden, ia hanya menurun dari sini. Mengingat hal ini, Tel Aviv mungkin mencari beberapa kemampuan kekal Iran yang melumpuhkan, yang tidak dapat dijatuhkan oleh sekatan, ia ingin memaksimumkan pengaruh sendiri sebelum pentadbiran baru mengembalikan apa-apa. Satu-satunya cara untuk melakukannya adalah melalui kaedah ketenteraan.
Juga di rt.com Walaupun Biden menjatuhkan sekatan, Iran tanpa khayalan selama ini AS akan berusaha menggagalkan kepemimpinannya
Ketegangan dua bulan ke depan
Dua bulan akan datang adalah perjalanan yang sukar. Kami mempunyai presiden AS yang enggan menerimanya telah kalah dalam pemilihan dan akan mencari jalan untuk terus berkuasa, warisan dasar luar yang ingin disatukannya secara kekal, dan sasaran yang mudah di Iran. Pentadbiran Trump melancarkan kempen tekanan maksimum terhadap Iran untuk motivasi strategik, dan dengan tujuan melobi sekutu. Semua yang berisiko dibatalkan kerana pentadbiran Biden akan menjadi penyokong untuk kembali ke JCPOA, sehingga menimbulkan pemikiran untuk memikirkan apa yang dapat dilakukan untuk menghentikan kejadian itu. Lebih banyak langkah mengenai Iran adalah satu perkara, tetapi ia dapat dirundingkan dengan mudah; serangkaian serangan terhadap laman web dan sektor tertentu, bagaimanapun, tidak dapat. Trump yang suka memicu mungkin melihat menyerang Teheran sebagai jalan keluar untuk semua masalahnya.
Adakah rakan anda berminat? Kongsikan kisah ini!
Pernyataan, pandangan dan pendapat yang dinyatakan dalam ruangan ini adalah semata-mata dari pengarang dan tidak semestinya mewakili pendapat RT.
RT