Meet the Smith College employee whistleblower exposing anti-white racism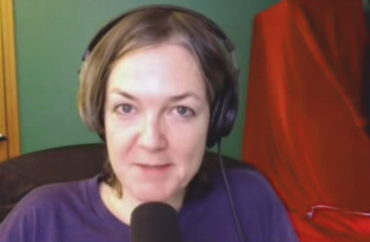 An employee at Smith College in Massachusetts has been making videos detailing the creation of a "hostile work environment" for her as a white person.
"I am very, very concerned about this issue, not just for the Smith community, but for communities at other colleges and workplaces too," Jodi Shaw told The College Fix in an email.
Shaw, an alumnus of the school, currently works as an administrative assistant in the Department of Student Affairs at the elite women's college.
"I'm white, which really shouldn't be relevant, but my employer has made it clear that, not only is it relevant, but it's possibly one of most important or if not the most important feature of me as a human," Shaw said in a video posted to her YouTube channel. As of now, Shaw has made a total of four videos detailing her experience at work.
The first is titled: "Dear Smith College: I Have a Few Requests."
"I ask that Smith College stop reducing my personhood to a racial category," she says. Shaw also claims that "a lot" of other staff members feel the same way. Those staffers have not come forward.
Shaw goes on to offer a blistering indictment of critical race theory, attacking the idea that white people have built an unconquerable system of racism against which people of color are powerless.
"I believe my value lies in the quality of my work, the goodness of my deeds, the essence of my character, and the fullness of my heart, not my skin color," she says.
According to Shaw, there is an "ever-present terror" at Smith "that any unverified student allegation of racism, or any other '-ism,' has the power to crush our reputations, ruin our livelihood, and even endanger the physical safety of ourselves or our family members."
Shaw later went on the Quillettepodcast to describe what she was referencing.
On July 31, 2018, a staffer saw student Oumou Kanoute lounging in a dining hall. Believing she was out of place, the staffer called unarmed campus police to investigate. When the officer arrived on the site, he recognized Kanoute, saw nothing was wrong, and left.
Given a platform by the ACLU, Kanoute would claim that she was "racially profiled," creating a firestorm on campus.
An independent investigation, however, found that the employee who called the police did not violateany campus policies.
After Shaw posted the first video to her channel, an HR representative came to a meeting with her supervisor, she told The Fix.
"We know about your video," she told Shaw. Shaw was then assigned a "campus safety partner" — which is another name for a campus police officer — to whom she could turn if she felt "unsafe."
"It felt strange and I do not know if Smith is actually concerned about me or just concerned about fulfilling obligations necessary to maintain their liability policy," Shaw said, though she also said she assumes it is the latter.
Publicly, the college threw Shaw under the bus.
"This past week, an employee of the college posted a personal video to express their concerns about the college's programming to promote racial justice," wrote Smith College President Kathleen McCartney in a statement.
"This employee does not speak for the college or any part of the college. Further, we believe the video mischaracterizes the college's important, ongoing efforts to build a more equitable and inclusive living, learning and working environment," she wrote.
"The National Labor Relations Act protects employees who engage in concerted activities, including speech, with respect to workplace conditions," McCartney writes.
Shaw is particularly skeptical of this sentence.
"I feel like this paragraph is code for: 'We would fire her, but we can't, because there's this law that says we can't…otherwise she would totally be fired,'" Shaw said in a second video deconstructing the statement.
One reason for her disbelief is the existence of a college policy protecting the "free exchange of ideas," as Shaw calls it. According to Shaw, it is suspicious that McCartney cites the National Labor Relations Act rather than any freedom-of-expression policies at Smith.
In a third video, Shaw describes an experience she had while organizing a library orientation for students. As a candidate for a full-time library position, she was told to "do something crazy." She decided to perform a rap to get students acquainted with the library system.
While she was preparing for the orientation, the incident with Kanoute occurred. According to Shaw, the campus "went into overdrive" and created a very "racially tense environment."
A supervisor wrote in an email to Shaw, "The use of rap as a medium by a white staff member and student could easily be perceived as insensitive or cultural appropriation by incoming Smith students and could create a perception with students that the library is not racially sensitive."
In an in-person conversation with the supervisor, Shaw asked if she would be able to do the rap if she were a person of color. Without hesitation, the supervisor replied, "Yes."
"I honestly believed that, if I filed a complaint…nobody would ever hire me at Smith College or anywhere," Shaw said.
Because of that event, as well as suspicion that the department would not want to hire a white person, she withdrew her application for the position and took on her current role.
After Shaw posted this video, The Sophian, Smith's student newspaper, wrote a November 2 story on Shaw. While Shaw agreed to an interview with The Sophian, she is only directly quoted once.
Shaw told The Fix that, while she did not read the story, colleagues told her that "it did not do a fair job of portraying the issues which is unfortunate as it denies members of the Smith College community access to information in an objective, fair manner."
The fourth and most recent video as of November 11 describes Shaw's experience at a faculty retreat, the first day of which would see her and her colleagues discuss their "identities."
Shaw was told to sit in a group and talk about her race "in the context of your childhood, your adolescence, and your college years."
Uncomfortable talking about such subjects in a work environment, Shaw abstained from the discussion.
Hours later, a facilitator told the group, "Any white person who expresses discomfort about or distress or any kind of resistance toward talking about their race when asked to is not actually experiencing discomfort, so don't feel like you should comfort them because it's not discomfort. It's called 'white fragility,' and it's a power play."
Shaw saw this as "a public humiliation."
"This was framed as a manipulative maneuver on my part," said Shaw. "It was an act of aggression, me saying I'm uncomfortable."
Shaw told The College Fix that more videos are forthcoming.
They will feature her take on "specific incidents that took place on Smith College campus between [the Kanoute incident] to the present that I believe are all a product of and a contributor to the hostile environment at Smith and excellent examples of the ideological stranglehold Smith seeks to maintain over its community."
The Fix contacted the Smith College public relations department, but it did not respond to repeated requests for comment. Shaw's videos have garnered national attention from TV hosts such as Tucker Carlson, who had Shaw on as a guest.
"I consider myself a liberal," Shaw told The College Fix, "and while I wish more liberals would speak out against this, I recognize it is an issue that concerns all of us and is an area that both conservatives and liberals can (and should) join forces on. This is not the time for division."
"I continue to work in a hostile work environment that feels more hostile since releasing the video."
MORE: Smith College retaliates against 'white supremacist' profs who question admissions standards
MORE: You can't say 'crazy' at Smith College: Student paper replaces with 'ableist slur'
IMAGE: YouTube screenshot
Like The College Fix on Facebook / Follow us on Twitter
I ask that Smith College stop reducing my personhood to a racial category.'
— Read on www.thecollegefix.com/meet-the-smith-college-employee-whistleblower-exposing-anti-white-racism/
Temui pemberi maklumat pekerja Smith College yang mendedahkan perkauman anti-kulit putih
Seorang pekerja di Smith College di Massachusetts telah membuat video yang memperincikan penciptaan "persekitaran kerja bermusuhan" untuknya sebagai orang kulit putih.
"Saya sangat, sangat prihatin dengan masalah ini, bukan hanya untuk komuniti Smith, tetapi juga untuk komuniti di kolej dan tempat kerja lain," kata Jodi Shaw kepada The College Fix dalam e-mel.
Shaw, seorang alumni sekolah, kini bekerja sebagai pembantu tadbir di Jabatan Hal Ehwal Pelajar di kolej wanita elit.
"Saya berkulit putih, yang semestinya tidak relevan, tetapi majikan saya telah menjelaskan bahawa, bukan sahaja ia relevan, tetapi mungkin itu adalah salah satu yang paling penting atau jika bukan ciri terpenting bagi saya sebagai manusia," Shaw berkata dalam sebuah video yang disiarkan ke saluran YouTubenya. Sehingga kini, Shaw telah membuat empat video yang memperincikan pengalamannya di tempat kerja.
Yang pertama bertajuk: "Dear Smith College: Saya Mempunyai Beberapa Permintaan."
"Saya meminta agar Smith College berhenti mengurangkan keperibadian saya menjadi kategori perkauman," katanya. Shaw juga mendakwa bahawa "banyak" anggota kakitangan lain merasakan hal yang sama. Kakitangan tersebut belum tampil ke hadapan.
Shaw terus memberikan dakwaan melengkapkan teori ras kritis, menyerang idea bahawa orang kulit putih telah membina sistem perkauman yang tidak dapat ditandingi yang mana orang-orang warna tidak berkuasa.
"Saya percaya nilai saya terletak pada kualiti karya saya, kebaikan perbuatan saya, intipati watak saya, dan kepenuhan hati saya, bukan warna kulit saya," katanya.
Menurut Shaw, ada "keganasan yang selalu ada" di Smith "bahawa setiap tuduhan pelajar yang tidak disahkan mengenai perkauman, atau '-isme' lain, memiliki kekuatan untuk menghancurkan reputasi kita, merosakkan penghidupan kita, dan bahkan membahayakan keselamatan fizikal diri kita sendiri atau ahli keluarga kita. "
Shaw kemudian pergi ke podcast Quillette untuk menggambarkan apa yang dia rujuk.
Pada 31 Julai 2018, seorang staf melihat pelajar Oumou Kanoute bersantai di dewan makan. Percaya bahawa dia tidak berada di tempat, staf tersebut memanggil polis kampus yang tidak bersenjata untuk menyiasat. Ketika pegawai itu tiba di laman web itu, dia mengenali Kanoute, melihat tidak ada yang salah, dan pergi.
Diberikan platform oleh ACLU, Kanoute akan mendakwa bahawa dia "dipromosikan secara ras," mewujudkan ribut api di kampus.
Namun, siasatan bebas mendapati bahawa pekerja yang memanggil polis tidak melanggar dasar kampus.
Setelah Shaw menyiarkan video pertama ke salurannya, seorang wakil HR datang ke pertemuan dengan penyelia, katanya kepada The Fix.
"Kami tahu mengenai video anda," katanya kepada Shaw. Shaw kemudian ditugaskan sebagai "rakan keselamatan kampus" – yang merupakan nama lain untuk pegawai polis kampus – yang dia boleh berpaling jika dia merasa "tidak selamat."
"Rasanya aneh dan saya tidak tahu sama ada Smith benar-benar prihatin terhadap saya atau hanya mengambil berat tentang memenuhi tanggungjawab yang diperlukan untuk mengekalkan polisi tanggungjawab mereka," kata Shaw, walaupun dia juga mengatakan bahawa dia menganggapnya adalah yang terakhir.
Di depan umum, kolej itu melemparkan Shaw ke bawah bas.
"Minggu lalu, seorang pegawai kolej memposting video peribadi untuk menyatakan keprihatinan mereka mengenai program kolej untuk mempromosikan keadilan kaum," tulis Presiden Kolej Smith Kathleen McCartney dalam satu kenyataan.
"Pekerja ini tidak bercakap untuk kolej atau bahagian kolej. Lebih jauh lagi, kami percaya video tersebut menggambarkan salah satu usaha berterusan dan penting kolej untuk membina persekitaran hidup, belajar dan bekerja yang lebih adil dan inklusif, "tulisnya.
"Undang-undang Perhubungan Buruh Nasional melindungi pekerja yang terlibat dalam kegiatan bersama, termasuk ucapan, berkenaan dengan keadaan tempat kerja," tulis McCartney.
Shaw sangat skeptikal terhadap ayat ini.
"Saya rasa ayat ini adalah kod untuk: 'Kami akan memecatnya, tetapi kami tidak boleh, kerana ada undang-undang ini yang mengatakan bahawa kami tidak boleh … jika tidak, dia akan dipecat sepenuhnya,'" kata Shaw dalam video kedua yang mendekonstruksi penyataan.
Salah satu sebab ketidakpercayaannya adalah adanya polisi perguruan yang melindungi "pertukaran idea bebas," seperti yang disebut oleh Shaw. Menurut Shaw, disyaki McCartney memetik Akta Perhubungan Buruh Nasional daripada kebijakan kebebasan bersuara di Smith.
Dalam video ketiga, Shaw menerangkan pengalamannya semasa mengatur orientasi perpustakaan untuk pelajar. Sebagai calon untuk kedudukan perpustakaan sepenuh masa, dia diberitahu untuk "melakukan sesuatu yang gila." Dia memutuskan untuk melakukan rap untuk membiasakan pelajar dengan sistem perpustakaan.
Semasa dia bersiap untuk orientasi, kejadian dengan Kanoute berlaku. Menurut Shaw, kampus "mengalami overdrive" dan mewujudkan persekitaran yang sangat tegang antara kaum. "
Seorang penyelia menulis dalam e-mel kepada Shaw, "Penggunaan rap sebagai media oleh kakitangan dan pelajar kulit putih dapat dengan mudah dianggap sebagai kepekaan tidak sensitif atau budaya oleh pelajar Smith yang masuk dan dapat mewujudkan persepsi dengan siswa bahawa perpustakaan tidak bersifat perkauman peka. "
Dalam perbualan secara langsung dengan penyelia, Shaw bertanya apakah dia akan dapat melakukan rap jika dia adalah orang yang berwarna. Tanpa ragu-ragu, penyelia menjawab, "Ya."
"Saya jujur percaya bahawa, jika saya mengemukakan aduan … tidak ada yang akan mengambil saya di Smith College atau di mana sahaja," kata Shaw.
Oleh kerana peristiwa itu, dan juga kecurigaan bahawa jabatan itu tidak mahu mengambil orang kulit putih, dia menarik permohonannya untuk jawatan tersebut dan mengambil peranannya sekarang.
Setelah Shaw menyiarkan video ini, The Sophian, surat khabar pelajar Smith, menulis kisah 2 November di Shaw. Walaupun Shaw bersetuju untuk wawancara dengan The Sophian, dia hanya dikutip secara langsung sekali.
Shaw memberitahu The Fix bahawa, walaupun dia tidak membaca cerita itu, rakan-rakannya memberitahunya bahawa "tidak adil untuk menggambarkan isu-isu yang sangat disayangkan kerana menafikan anggota masyarakat Smith College akses ke maklumat secara objektif, adil cara. "
Video keempat dan terbaru pada 11 November menerangkan pengalaman Shaw di retreat fakulti, hari pertama di mana dia dan rakannya membincangkan "identiti" mereka.
Shaw diberitahu untuk duduk dalam kumpulan dan membicarakan tentang perlumbaannya "dalam konteks masa kecil anda, masa remaja anda, dan tahun kuliah anda."
Tidak selesa untuk membicarakan perkara seperti itu dalam persekitaran kerja, Shaw menjauhkan diri daripada perbincangan.
Beberapa jam kemudian, seorang fasilitator memberi tahu kumpulan itu, "Mana-mana orang kulit putih yang menyatakan ketidakselesaan atau kesusahan atau apa-apa penolakan untuk membicarakan tentang perlumbaan mereka ketika diminta tidak benar-benar mengalami ketidakselesaan, jadi jangan merasa seperti anda harus menenangkan mereka kerana itu tidak rasa tidak selesa. Ia dipanggil 'kerapuhan putih', dan ini adalah permainan hebat. "
Shaw melihat ini sebagai "penghinaan awam."
"Ini dirangka sebagai manuver manipulatif dari pihak saya," kata Shaw. "Itu adalah tindakan pencerobohan, saya mengatakan saya tidak selesa."
Shaw memberitahu The College Fix bahawa lebih banyak video akan datang.
Mereka akan memperagakannya tentang "insiden khusus yang berlaku di kampus Smith College antara [kejadian Kanoute] hingga sekarang yang saya percaya semuanya adalah produk dan penyumbang kepada persekitaran permusuhan di Smith dan contoh-contoh yang sangat baik dari gagasan ideologi Smith berusaha untuk menjaga masyarakatnya. "
The Fix menghubungi jabatan perhubungan awam Smith College, tetapi pihaknya tidak menjawab permintaan berulang untuk memberi komen. Video Shaw telah mendapat perhatian nasional dari hos TV seperti Tucker Carlson, yang menjadikan Shaw sebagai tetamu.
"Saya menganggap diri saya seorang yang liberal," kata Shaw kepada The College Fix, "dan sementara saya berharap lebih banyak liberal akan menentangnya, saya menyedari bahawa ini adalah masalah yang menyangkut kita semua dan merupakan bidang yang dapat dilakukan oleh kedua-dua kaum konservatif dan liberal (dan harus) bergabung. Ini bukan masa untuk perpecahan. "
"Saya terus bekerja di persekitaran kerja yang bermusuhan yang terasa lebih bermusuhan sejak merilis video."
LEBIH: Smith College membalas dendam terhadap profesor 'supremasi kulit putih' yang mempersoalkan standard kemasukan
LEBIH: Anda tidak boleh mengatakan "gila" di Smith College: Kertas pelajar diganti dengan "slaf yang dapat dikendalikan"
GAMBAR: Tangkapan skrin YouTube
Suka The College Fix di Facebook / Ikuti kami di Twitter