Joe Biden is no blank page, may well return to warmongering policies waged by US before 2016, former OSCE vice-president tells RT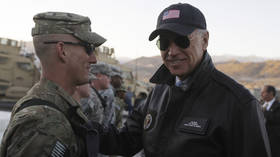 There's a 'good chance' that the US will return to a policy of foreign wars under Joe Biden, which will make its reconciliation with the EU impossible, Willy Wimmer, former vice-president of the OSCE, has warned.
The main reason why Americans voted for Donald Trump four years ago was that they were tired of constant wars waged by their country, as well as a collapsing economy and infrastructure in the US, Wimmer told RT.
Trump kept his promise and didn't start any new foreign conflicts, but that may well change if a member of the Democratic Party is in the White House, the former vice president of the Organization for Security and Co-operation in Europe (OSCE) Parliamentary Assembly said.
Joe Biden isn't an empty white sheet – he represents the Democratic Party, who in the 1990s destroyed the Charter of the UN.
The German political veteran recalled the US-led NATO bombing of Yugoslavia under Democratic President Bill Clinton in 1999. He also pointed out that "in the presidency of [Barack] Obama, Biden was vice president and he was in absolute accordance with Obama's drone wars and the wars in the Middle East, therefore there's a good chance that Joe Biden continues in the same way as the Democratic Party did it in the 1990s and under Obama" before 2016.
"And going back to before 2016 means going back to war" for the US, Wimmer argued.
Relations between Washington and Brussels have deteriorated under Trump over his demands for EU nations to make larger financial contributions to NATO, as well as applying political and economic pressure on the bloc to stop dealing with Russia and China.
Hopes that things would improve under Biden will be dashed, "as long as the US and NATO don't return to the Charter of the UN," said the 77-year-old, who also served as state secretary to Germany's defense minister.
However, he pointed out that a question remains as to whether the current US economy, which was heavily hit by the coronavirus, would even allow Biden to return to the aggressive policy which the Democrats used to pursue.
Unlike German Chancellor Angela Merkel, who has already congratulated Biden for beating incumbent Donald Trump in the US presidential election, Wimmer believes that others "should be very, very careful with congratulations."
The Democratic candidate declared himself the winner on Saturday after several major television networks projected that he was on a path to take more than the 270 electoral votes needed to win the presidency after four days of tense vote counts in several battleground states.
"It's quite unusual… that the result of an election is announced by a news agency or a news channel. We're used… in all our countries which belong to the OSCE, that we have election committees who announce results. And this hasn't been done yet in the US," he pointed out, describing the events surrounding the American election as "unbelievable."
Think your friends would be interested? Share this story!
RT | November 8, 2020 There's a 'good chance' that the US will return to the policy of foreign wars under Joe Biden, which will make its reconciliation with the EU impossible, Willy Wimmer, former vice-president of the OSCE, warned. The main reasons why the Americans voted for Donald Trump four years ago were their…
— Read on alethonews.com/2020/11/08/joe-biden-is-no-empty-sheet-may-well-return-us-to-warmaking-former-osce-vice-president/
Joe Biden tidak ada halaman kosong, mungkin akan kembali ke dasar pemanasan yang dilaksanakan oleh AS sebelum 2016, kata bekas naib presiden OSCE kepada RT
8 Nov, 2020 22:29 / Dikemas kini 3 hari yang lalu
Joe Biden tidak ada halaman kosong, mungkin akan kembali ke dasar pemanasan yang dilaksanakan oleh AS sebelum 2016, kata bekas naib presiden OSCE kepada RT
Ada 'peluang baik' bahawa AS akan kembali ke dasar perang luar negeri di bawah Joe Biden, yang akan menjadikan pendamaiannya dengan EU tidak mungkin, Willy Wimmer, mantan naib presiden OSCE, telah memberi amaran.
Sebab utama mengapa orang Amerika memilih Donald Trump empat tahun yang lalu adalah kerana mereka bosan dengan peperangan berterusan yang dilakukan oleh negara mereka, serta ekonomi dan infrastruktur yang runtuh di AS, kata Wimmer kepada RT.
Trump menepati janjinya dan tidak memulakan konflik asing baru, tetapi itu mungkin akan berubah sekiranya anggota Parti Demokrat berada di Gedung Putih, mantan naib presiden Pertubuhan Keselamatan dan Kerjasama di Eropah (OSCE) Kata Majlis Parlimen.
Joe Biden bukanlah helaian putih kosong – dia mewakili Parti Demokrat, yang pada 1990-an menghancurkan Piagam PBB.
Veteran politik Jerman itu mengingatkan pengeboman Yugoslavia oleh NATO yang dipimpin oleh AS di bawah Presiden Demokrat Bill Clinton pada tahun 1999. Dia juga menunjukkan bahawa "dalam presiden [Barack] Obama, Biden adalah naib presiden dan dia benar-benar sesuai dengan perang drone Obama dan perang di Timur Tengah, oleh itu ada peluang yang baik agar Joe Biden berlanjutan dengan cara yang sama seperti yang dilakukan Parti Demokrat pada tahun 1990-an dan di bawah Obama "sebelum 2016.
"Dan kembali sebelum 2016 bermaksud kembali berperang" untuk AS, Wimmer berpendapat.
Juga di rt.com Pentadbiran Biden akan sukar untuk mengintegrasikan dirinya dalam dunia yang diubah oleh Trump
Hubungan antara Washington dan Brussels merosot di bawah Trump atas tuntutannya agar negara-negara EU memberi sumbangan kewangan yang lebih besar kepada NATO, serta memberi tekanan politik dan ekonomi kepada blok itu untuk berhenti berurusan dengan Rusia dan China.
Berharap agar keadaan bertambah baik di bawah Biden akan putus asa, "selagi AS dan NATO tidak kembali ke Piagam PBB," kata lelaki berusia 77 tahun itu, yang juga bertugas sebagai setiausaha negara menteri pertahanan Jerman.
Namun, dia menunjukkan bahwa masih ada pertanyaan apakah ekonomi AS saat ini, yang sangat dilanda koronavirus, bahkan akan memungkinkan Biden kembali ke kebijakan agresif yang biasa dilakukan oleh Demokrat.
Tidak seperti Canselor Jerman Angela Merkel, yang telah mengucapkan tahniah kepada Biden karena mengalahkan penyandang jawatan Donald Trump dalam pemilihan presiden AS, Wimmer percaya bahawa yang lain "harus sangat, sangat berhati-hati dengan ucapan selamat."
Juga di rt.com pemimpin Eropah mengucapkan tahniah kepada Joe Biden, setelah jumlah media menyatakan dia menang dalam pemilihan presiden AS
Calon Demokrat mengisytiharkan dirinya sebagai pemenang pada hari Sabtu setelah beberapa rangkaian televisyen utama mengunjurkan bahawa dia berada di jalan untuk mengambil lebih dari 270 undi pilihan raya yang diperlukan untuk memenangkan presiden setelah empat hari pengundian tegang di beberapa negeri pertempuran.
"Tidak biasa … keputusan pilihan raya diumumkan oleh agensi berita atau saluran berita. Kita sudah terbiasa … di semua negara kita yang tergolong dalam OSCE, kita mempunyai jawatankuasa pemilihan yang mengumumkan hasilnya. Dan ini belum dilakukan di AS, "katanya, menggambarkan peristiwa di sekitar pilihan raya Amerika sebagai" sukar dipercayai. "
Adakah rakan anda berminat? Kongsikan kisah ini!
RT