Danish PM apologises over mink cull blunder as thousands of carcasses dumped
Only animals within eight kilometres of an outbreak may currently be culled under Danish law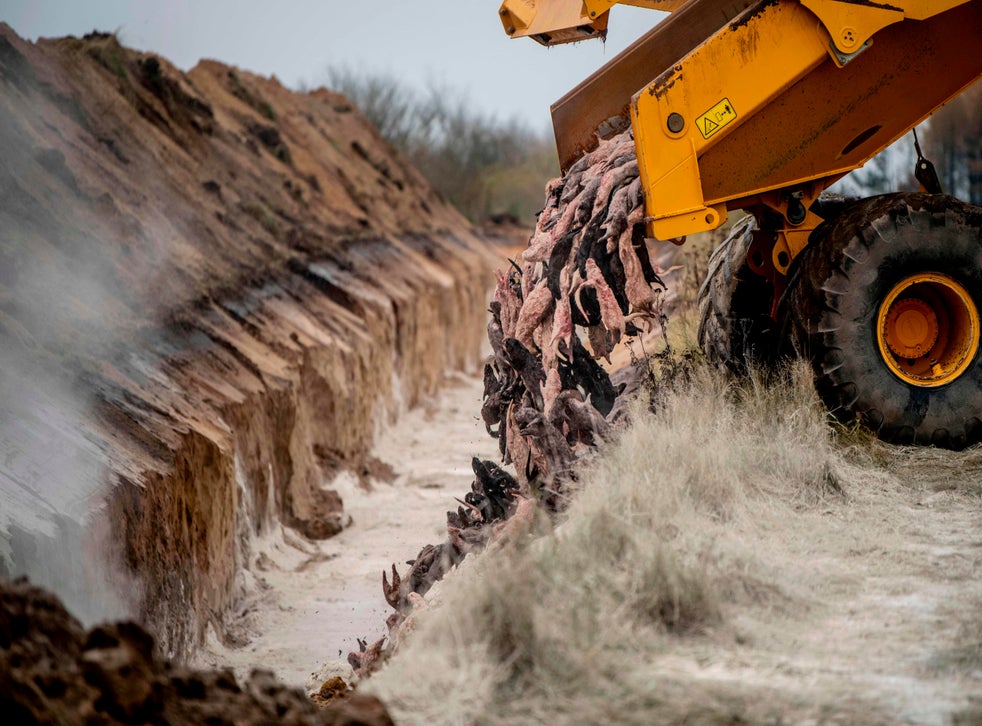 The Danish prime minister has apologised after her government failed to inform the public that new legislation is needed to cull all of the country's minks, following an illegal directive last week.
The government order said that all of Denmark's 17 million minks must be culled after the emergence of a new Covid-19 strain linked to fur farms in the country.
However, under law, healthy animals located more than eight kilometres from a confirmed outbreak cannot be killed.
"Even if we were in a rush, it should have been completely clear to us that new legislation was required, and it was not. I apologise for that," Mette Frederiksen told parliament on Tuesday.
Her words came the day after photos emerged showing mass graves had been dug in Denmark to dispose of thousands of mink carcasses, with more than 2 million animals killed in the country so far.
Carcasses were pictured being dumped on Monday by members of the Danish armed forces into large rectangular pits, located on military land near the town of Holstebro.
The decision to bury some of the killed minks was taken because incinerators cannot operate at the required rate, according to the Danish environmental and health authorities.
The cull was announced last week as a result of the mutation known as "cluster 5", which has so far infected 12 people and has been found in animals in five mink farms in northern Jutland.
In a statement released last Thursday, Mogens Jensen, the Danish minister for food and fisheries, said the government was "painfully aware" that mink farmers would lose their livelihoods because of the order but stressed that it was the "right thing to do", as the strain could potentially endanger the efficacy of Covid-19 vaccines.
This suggestion is disputed by some scientists, with the World Health Organization confirming that "the implications of the identified changes in this variant are not yet well understood".
In a bid to soften the blow, Mr Jensen said that farmers would receive 20 krone per animal culled within 10 days of the directive.
The UK removed Denmark from its travel corridor list because of the detection of the new Covid-19 strain.
Health secretary Matt Hancock has said that there could be "grave" consequences if the variant spreads, but acknowledged that the risk was low.
Mr Hancock said: "There is an international case on public health grounds for addressing this question of mink farming which we banned in the UK two decades ago."
"Clearly on global public health grounds, there is a case to do everything we can to stop the re-transmission of this virus into an animal population and then back again, which can lead to these sorts of mutations that we've seen," he added.
https://www.independent.co.uk/news/world/europe/denmark-mink-cull-pm-apology-b1720532.html
PM Denmark meminta maaf di atas kesalahan curang kerana ribuan bangkai dibuang
Hanya haiwan dalam jarak lapan kilometer dari wabak yang saat ini dapat dibunuh di bawah undang-undang Denmark
Rory Sullivan2 hari yang lalu
Bangkai bulu dibuang ke kubur besar di Holstebro, Denmark, pada 9 November 2020.
Perdana menteri Denmark telah meminta maaf setelah pemerintahnya gagal memberi tahu masyarakat bahawa undang-undang baru diperlukan untuk menghilangkan semua kerdil negara itu, menyusul arahan haram minggu lalu.
Perintah pemerintah mengatakan bahawa semua 17 juta cerpelai Denmark harus dibunuh setelah munculnya strain Covid-19 baru yang berkaitan dengan ladang bulu di negara itu.
Namun, menurut undang-undang, haiwan yang sihat yang terletak lebih dari lapan kilometer dari wabak yang disahkan tidak dapat dibunuh.
"Walaupun kita terburu-buru, seharusnya sudah jelas bagi kita bahawa undang-undang baru diperlukan, dan tidak. Saya minta maaf untuk itu, "kata Mette Frederiksen kepada parlimen pada hari Selasa.
Kata-katanya datang sehari selepas foto-foto yang muncul menunjukkan kuburan besar telah digali di Denmark untuk membuang ribuan bangkai cerpelai, dengan lebih daripada 2 juta haiwan terbunuh di negara ini sejauh ini.
Bangkai gambar dibuang pada hari Isnin oleh anggota angkatan bersenjata Denmark ke lubang-lubang segi empat besar, yang terletak di tanah tentera berhampiran bandar Holstebro.
Keputusan untuk menguburkan beberapa cerpelai yang terbunuh diambil kerana insinerator tidak dapat beroperasi pada tingkat yang diperlukan, menurut pihak berkuasa alam sekitar dan kesihatan Denmark.
Pelanggaran itu diumumkan minggu lalu sebagai hasil mutasi yang dikenal sebagai "kelompok 5", yang sejauh ini telah menjangkiti 12 orang dan telah dijumpai pada haiwan di lima ladang cerpelai di utara Jutland.
Dalam pernyataan yang dikeluarkan pada hari Khamis lalu, Mogens Jensen, menteri makanan dan perikanan Denmark, mengatakan pemerintah "sangat menyedari" bahawa petani cerpelai akan kehilangan mata pencarian mereka kerana perintah itu tetapi menekankan bahawa itu adalah "perkara yang tepat untuk dilakukan", kerana strain berpotensi membahayakan keberkesanan vaksin Covid-19.
Saran ini dipertikaikan oleh beberapa saintis, dengan Pertubuhan Kesihatan Sedunia menegaskan bahawa "implikasi perubahan yang dikenal pasti dalam varian ini belum dipahami dengan baik".
Dalam usaha untuk melembutkan pukulan, Mr Jensen mengatakan bahawa petani akan menerima 20 krone per binatang yang disembelih dalam 10 hari dari arahan tersebut.
Inggeris mengeluarkan Denmark dari senarai koridor perjalanannya kerana pengesanan strain Covid-19 yang baru.
Setiausaha Kesihatan Matt Hancock telah mengatakan bahawa mungkin ada akibat "serius" jika variannya menyebar, tetapi mengakui bahawa risikonya rendah.
Hancock berkata: "Ada kes internasional atas alasan kesihatan awam untuk mengatasi masalah pertanian mink yang kami larang di UK dua dekad yang lalu."
"Jelas atas alasan kesehatan masyarakat global, ada kasus untuk melakukan segala yang kami mampu untuk menghentikan penularan virus ini ke dalam populasi haiwan dan kembali lagi, yang dapat menyebabkan semacam mutasi yang telah kita lihat," dia menambah.